Nau Mai Haere Mai ! Join us on Friday 2nd November between 12 and 2pm at the Digital Humanities Hub for the second of our weekly
Open Hours
!
Topic – Digital Methods and Tools for Analysing Text
Following on from last week's spirited discussion about what Digital Humanities (DH) could be, this week we will be exploring weird and wonderful possibilities for reading and visualizing texts using quantitative methods and statistical analysis.
"In short, there are a lot of new things humanists can do with text, ranging from new versions of things we've always done (make literary arguments about diction), to modeling experiments that take us fairly deep into the methodological terrain of the social sciences."
This 2015 blog post gives a useful, engaged overview of ways in which Humanities scholars are reading and analysing texts in digital realms. The author, Ted Underwood, teaches in both Information Sciences and English Literature at the University of Illinois, Urbana-Champaign in North America. 
Projects & Tools – QueryPic and VoyantTools
QueryPic – http://dhistory.org/querypic/create/
A tool developed by Tim Sherratt, Associate Professor of Digital Heritage at University of Canberra to offer an additional way of seeing, searching and understanding the digitised newspapers made available by Trove and Papers Past.
VoyantTools – https://voyant-tools.org/ 
VoyantTools is a web-based reading and analysis environment for digital texts, developed and maintained by Stéfan Sinclair & Geoffrey Rockwell. It can be used to model and visualize textual corpora, as in the wordcloud below which uses The LA Review of Books Special Interview Series The Digital in the Humanities to attempt a distant reading definition of 'Digital Humanities'.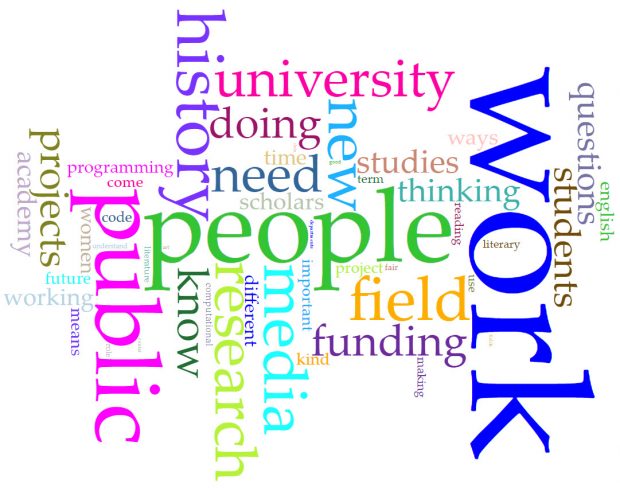 Join us in the Hub to explore, enquire and discuss!
WHEN: 12pm – 2pm, Friday 2nd November 2018
WHERE: Digital Humanities Hub, Room 1W3, First Floor, Arts Building
WHO: Anyone in the University community – there's no advance registration required, but we always appreciate knowing in advance if you are planning to come along!
LIBRARIANS: Chris Seay – christopher.seay@otago.ac.nz, and Lisa Chisholm – lisa.chisholm@otago.ac.nz