The Digital Humanities Expo is an annual event organised by the Digital Humanities Working Group to showcase Otago digital humanities scholarship alongside national and international speakers and projects, to provoke discussion, and to build a thriving community of digital research and teaching practice in the arts and humanities at Otago. It is usually held in September or October each year.
See the Expo ARCHIVE for previous events.
2019 | BURNS 2 Lecture Theatre, Arts Building
The DH Expo 2019 took place on Monday 14 October, 1 – 4:45pm in the BURNS 2 Lecture Theatre.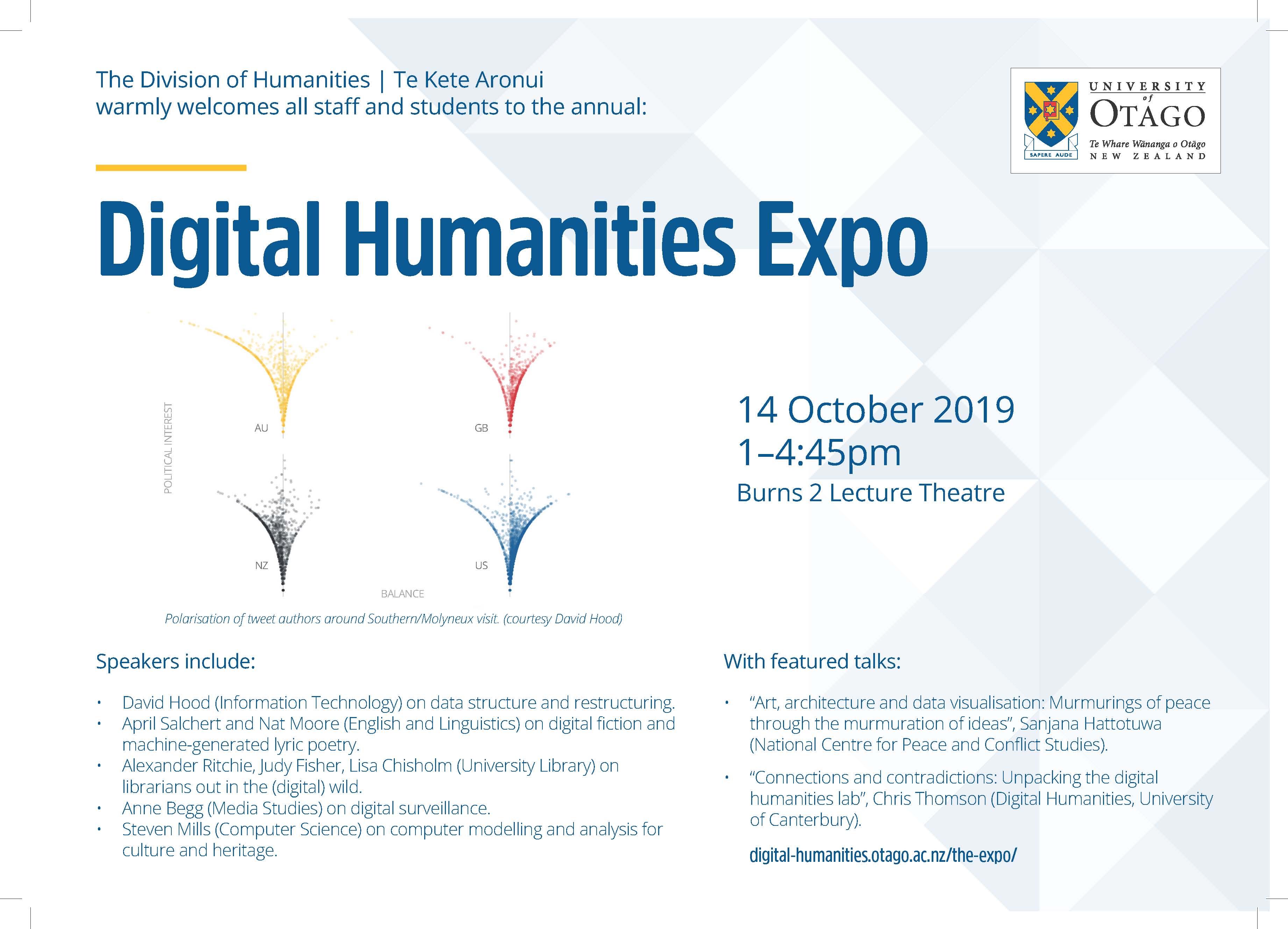 PROGRAMME
1pm – Expo Commences
Welcome and Opening:
David Ciccoricco (English & Linguistics)
1:10 – Data Structure & Restructuring
David Hood (Information Technology Training)
The qualitative is the quantitative, in the sense that the conceptual framework of data determines the structure, and the structure determines what questions can be asked. This talk explores examples of changing data structure to change what questions are possible to answer.

1:30 – Off-Book: Librarians experiment with/in digital wilds
Alexander Ritchie, Judy Fisher, Lisa Chisholm, Antje Lubcke (University Library)
Libraries and librarians have been experimenting with new technologies for a long time, and OU Libraries engagement with the 'digital' in the Humanities honours this tradition and echoes current international trends. Lisa, Judy, Antje and Alexander reflect on a busy year, and look forward to 2020 in the wild(ly digital) humanities

1:50 – On Social Media Surveillance
Anne Begg (Media, Film, and Communication)
This presentation will discuss social media surveillance and focus on issues of privacy and regulation. It will address the questions: What does it cost users to have 'free' access to social media platforms? Should platforms like Facebook and Google be free to self-regulate?

2:10 – On Digital Fiction & Machine-generated lyric poetry
Nat Moore & April Salchert (English & Linguistics)
In 1944 William Carlos Williams wrote that a "poem is a small (or large) machine made out of words." Nat's talk will explore how a computer might make a machine made out of words.
April will discuss what digital narratives can tell us about the migrant experience and how digital media can address the ethical challenges of such representation.
BREAK  2:30 – 3:00
3:00 – Computer Modelling and Analysis for Culture and Heritage
Steven Mills (Computer Science)
Steven will talk about some of his recent work using techniques from computer vision and artificial intelligence to support projects with cultural and heritage applications.

FEATURED SPEAKERS
3:20 – "Connections and Contradictions: Unpacking the Digital Humanities Lab"
Chris Thomson (Digital Humanities, University of Canterbury)
Digital Humanities laboratories have emerged within a context of economic, cultural and technological shifts in recent decades, notably the 'crisis in the humanities' and the trend towards more applied, community-oriented and interdisciplinary research. Smithies & Ciula (forthcoming) describe their DH lab as 'a complex socio-technical system, with a variety of humans in the loop'. They emphasise the role of infrastructure and lab management processes, offering a roadmap for technologically driven humanities research in the contemporary financial and social climate. Meanwhile, Turner & Sturm have warned of the need for universities to protect the freedom of 'idle talk'—kōrero kanohi ki te kanohi—against the homogenising business model of 'U2.0', with its 'template' approach to research and teaching. If we believe there is no inevitable path a DH lab must take, how should we navigate these alternatives? Can we agree what digital humanities 'in the lab' should look like in Aotearoa New Zealand? This talk will explore some of the connections and contradictions attached to digital humanities work with reference to projects undertaken in the UC Arts Digital Lab since 2016. By unpacking some of the implications of the approaches used—crowd-sourcing, digital editions and topic modeling—I examine how DH labs can contribute to the future of humanities teaching and research.

4pm – "Art, architecture & data visualisation: Murmurings of peace through the murmuration of ideas"
Sanjana Hattotuwa  (National Centre for Peace and Conflict Studies)

The etymology of protest (protestari in Latin) is to bear witness. How, remains an enduring question. There is no one answer & my own is anchored to growing up in Sri Lanka. A war spanning 3 decades, aside from the obvious death & destruction, violently erased memories – of what happened, how, when, where and why. History, build on a bedrock of omission, is essentially fiction. Uncontested & over time, this fiction becomes fact. Generations grow up to believe in communities, identities, cultures and religions as those that must be feared, alien, destructive, cancerous or otherwise hostile. The challenge then is how to critique when the very act of questioning risks disengagement, or worse. Since 2006, I've leveraged the arts, theatre, photography, literature and more recently, 3D modelling, architecture and social media data to highlight inconvenient truths. Carving out a new aesthetic of protest within violence, long before the definition or theorisation of 'digital humanities', my work seeks to render visible the erased, marginal or peripheral. Projects I've curated are unique in Sri Lanka and highlight both the need for & existence of many stories, instead of just a single, exclusive narrative. My presentation is a retrospective of advocacy & activism through new frames of protest, within enduring systemic violence that has rendered society and polity deeply resistant to any critical gaze.

4:45 – Expo Finishes
Wrap-up:
James Maclaurin (Associate Dean Research, Division of Humanities)